At a glance
Largest city: St. Gallen (75'000 inhabitants)
Specialties: Appenzeller beaver, Appenzeller cheese, Schüblig, OLMA bratwurst, Rheintaler Ribel
UNESCO World Heritage: Abbey District of St. Gallen, Swiss Tectonic Arena Sardona
Hotel industry: 459 hotels (8'948 rooms)

Varied eastern switzerland
Regions such as Ticino, the Bernese Oberland, Valais and Graubünden may have a greater tourist appeal than eastern Switzerland, but the latter shines with a diversity and a wide range of landscapes that hardly any other Swiss region does.&nbsp...
regions.region_hotels.read_more
Varied eastern switzerland
Regions such as Ticino, the Bernese Oberland, Valais and Graubünden may have a greater tourist appeal than eastern Switzerland, but the latter shines with a diversity and a wide range of landscapes that hardly any other Swiss region does.

At Lake Constance, for example, you can feel like you're in the Mediterranean in summer. Swimming, walking, and above all cycling along the beautiful cycle paths along the shore create an attitude to life full of freedom and light-heartedness. From the lake you can already see the hilly landscape of the Appenzellerland in the background. With the over 3,000-metre-high Ringelspitz in the Glarus Alps, the Hohen Kasten or the Säntis, there are also really big mountains in the region. Then there are cities such as St. Gallen, Schaffhausen or Rapperswil-Jona at the eastern end of Lake Zurich. Here you will find some of the best hotels in Switzerland.

Swimming, skiing, hiking, city trips
As varied as nature is, so are the leisure activities in Eastern Switzerland: from the bathing fun at Lake Constance it is only a few kilometres to the hike at over 2,000 metres. The larger cities, above all St. Gallen with its Abbey District, which is a UNESCO World Heritage Site, are also in the immediate vicinity.
regions.region_hotels.read_less
Become a member now
HotelCard has been promoting the Swiss hotel industry for 10 years: While participating partner hotels increase their occupancy rates during off-peak periods, HotelCard members benefit from exclusive rates. Simple and original, a win-win model for everyone.
Eastern Switzerland and Liechtenstein in summer
© Säntis-Schwebebahn AG
Full moon ride on the Säntis

From Säntis, at over 2,500 metres the highest peak in the Alpstein, six countries can be seen in good weather: Switzerland, Austria, Liechtenstein, Germany, France and Italy. At least as worth seeing is the visit to the mythical mountain at full moon: Every full moon evening you can take the Säntis cable car up to the summit and enjoy a full moon buffet accompanied by music. Definitely try it out!
Place: Schwägalp Säntis
More information
By bike around Lake Constance

Lake Constance, surrounded by Switzerland, Austria and Germany, is considered one of the top pre-regions in Europe. There are numerous signposted cycle paths around the lake. From the challenging 165 km long circuit around the whole lake to shorter routes such as Konstanz - Insel Mainau - Konstanz (16 km), there is at least one suitable route for every performance level and every taste.
Place: Lake Constance
More information
© Mattias Nutt
© Heidiland Tourismus / Dolores Rupa
Ride with the legendary Älplibahn

The Älpli cable car in the region of Heidiland is a real insider tip: so much so that you even have to book in advance by telephone for a ride on the cable car built in the 1940s. Originally constructed for military purposes, the small cable car leads from Malans to the Malans Älpli. In a length of only 3.5 km, it overcomes 1,200 metres in altitude - more than any other Swiss cable car without an intermediate station. Once at the top, you can enjoy the view from the restaurant or go for a short hike.
Place: Malans
More information
Eastern Switzerland and Liechtenstein in winter
© Stiftsbibliothek St. Gallen
FFUNESCO World Heritage Site Abbey District

The Abbey District of St. Gallen, part of the UNESCO World Heritage Site since 1983, is one of the most beautiful and largest monasteries in Switzerland. The monastery's own library is one of the oldest and richest in the world. From June 2020, if the Corona pandemic permits, a highly interesting exhibition entitled "Gallus and his monastery - 1400 years of cultural history" will open. The exhibition is dedicated to the rich, 1,400-year-old history of the abbey district.
Place: St. Gallen
More information
Aviation and Vehicle Museum

The Altenrhein Aviation and Vehicle Museum is located on the grounds of St. Gallen Altenrhein Airport, just a few metres from the shore of Lake Constance and the Austrian border. It is the only museum in Europe where you can see aircraft that are still regularly in the air up close. Visitors can even take a seat in an original Hunter cockpit.
Place: Altenrhein
More information
© FFA Museum
© Huskystuff GmbH
Drive a dog sled yourself

In Flumserberg you will become a sledge dog driver yourself. An experienced guide will introduce you to the world of huskies (sledge dogs) - after that it's off. You may lead your own dog team through the dreamlike winter landscape. One round is about 2.5 km long, the ride takes a quarter of an hour. For sporty guests there is even the possibility to go on a two-day trip with the huskies. This husky tour leads to the Spitzmeilenhütte (SAC), where you will stay overnight.
Place: Flumserberg
More information
Places in Eastern Switzerland and Liechtenstein
© appenzell.ch
Appenzell

The small town of Appenzell has not even 6,000 inhabitants, but has an amazing amount to offer. Even the journey with the narrow-gauge railway of the Appenzeller Bahnen is a highlight. In the village itself, you should visit the Landsgemeindeplatz, where the traditional Landsgemeinde (rural community) is held on the last Sunday in April and has been since 1378. Other attractions are the church of St. Mauritius, built in 1513 and the Holy Cross Chapel from 1561. The Capuchin monasteries of St. Anthony Mary of the Angels are also extremely worth seeing.
Arbon

When you visit Arbon on a beautiful summer's day, you sometimes forget that you have landed in the canton of Thurgau or at Lake Constance. The ambience in the small town has a very Mediterranean feel to it, especially if you stroll along the lake promenade or take a dip in Lake Constance to cool off. But also the medieval old town is worth seeing. Arbon Castle was first mentioned in 720. In August Arbon is transformed into a festival hut when the open-air "Summerdays Festival" takes place - directly on the lake, of course.
Show all hotels in Arbon
© Arbon Tourismus / Herbert Haltmeier
© Liechtenstein Marketing
Malbun

Malbun lies at the end of the day of the same name in the east of Liechtenstein. Behind the mountains is already Austria. The village has been settled since the 13th century, when the Walser settled there. With 23 km of slopes, Malbun is the most important winter sports resort in Liechtenstein. In 1985 even Prince Charles and Princess Diana went skiing there. From spring to autumn, beautiful hiking routes such as the one to the Augstenberg (2,359 m) or the Galinakopf (2,198 m) attract visitors.
What our members say
Discover new places far away from mass tourism
"Since I own a HotelCard, we go on excursions much more often again and treat ourselves to the small luxury of an overnight stay in a hotel. Switzerland has so many exciting corners and with HotelCard, we are always discovering new destinations far away from mass tourism."

Sandra & Giuseppe
member since 2020
A great thing for hotels
"As a hotelier, I appreciate the model. Unlike other booking portals, HotelCard does not take commission on bookings. HotelCard members are welcome guests at our hotel and are a real asset, especially in the low season"

Very good newsletter - always eagerly awaited!
"HotelCard does a great job in communicating the great hotel offers. I always eagerly await the newsletter and read it with great pleasure. In these pandemic times, discovering all that Switzerland has to offer has become a real passion for me. I really appreciate the inspiration for special hotels and unique destinations from HotelCard."
Eric Haldimann
member since 2020
Win-win situation for all involved
"I would like to thank the whole HotelCard team for their great commitment. In the meantime, our children no longer live at home and we use the HotelCard offer very often for short holidays. A great thing and I think it really is a win-win situation for everyone. Thank you very much and have fun and success searching and finding nice partner hotels. See you in the next inspiring newsletter."
Siegmund Ksiazek-Stadtbäumer
member since 2011
Already saved over 2,000 CHF - it couldn't be better.
"We have been very satisfied with HotelCard for more than 3 years. We have been able to save over 2,000 CHF so far - it couldn't be better. We are really fans and have often recommended HotelCard to others."
Ruedi Kündig
member since 2017
Share your best HotelCard moments with us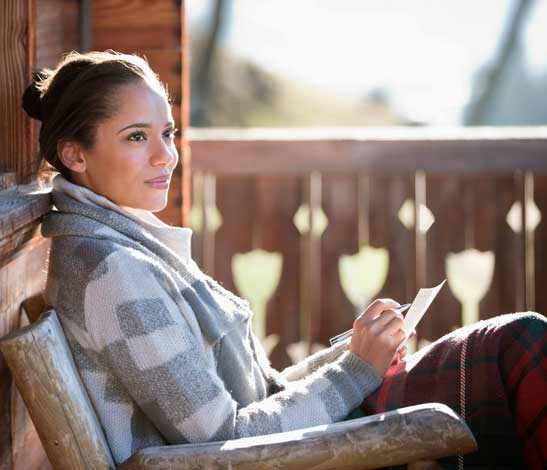 Share your experiences with our HotelCard community so that other members can benefit from your travel stories and experiences with HotelCard. Simply tag your posts on Instagram with hashtags #myhotelcard. We look forward to your contributions!