© Swiss Tourism
At a glance
Largest city: Geneva (195'000 inhabitants)
Specialities: Cardon de Genève, Longeole, Rissoles aux poires
UNESCO World Heritage: Architectural work of Le Corbusier
Hotel industry: 122 hotels (9'653 rooms)

With a population of just under 200,000, Geneva is Switzerland's second largest city, the economic and cultural centre of French-speaking Switzerland and the most international place that knows Switzerland.

More than 60 international organizations have their headquar&nbsp...
regions.region_hotels.read_more
With a population of just under 200,000, Geneva is Switzerland's second largest city, the economic and cultural centre of French-speaking Switzerland and the most international place that knows Switzerland.

More than 60 international organizations have their headquarters in the city of Calvin on the border with France. The best known are the UN, WHO, WTO, EFTA and the International Committee of the Red Cross. For decades, Geneva has been the most important place in the world when it comes to resolving conflicts and jointly mastering global challenges. Here you will find some of the best hotels in Switzerland.

Geneva was home to these personalities
It is not only international organizations that appreciate and value Geneva. Also very famous private persons have always found their way to Geneva and spent a part of their lives there. These include the great writers Jean-Jacques Rousseau and Voltaire, the revolutionary Lenin or Kofi Annan, former Secretary-General of the UN.

Geneva, the city of Calvin
One of the most famous sons of the city is Johannes Calvin. The reformer from France lived a large part of his life in Geneva. The city still bears the nickname Calvin City today.

Jet d'Eau, symbol of Geneva
Geneva's most famous landmark is the Jet d'Eau, a huge jet of water (jet d'eau) that sprays out of Lake Geneva up to 140 metres high. This requires two pumps, which transport 500 litres of water per second at a speed of 200 km/h.
regions.region_hotels.read_less
Become a member now
HotelCard has been promoting the Swiss hotel industry for 10 years: While participating partner hotels increase their occupancy rates during off-peak periods, HotelCard members benefit from exclusive rates. Simple and original, a win-win model for everyone.
Geneva region in summer
© Genève Tourisme / www.geneve.com
View of Switzerland from Mont Salève

Mont Salève is the perfect place to look out over Geneva and Switzerland from the outside. Because the Mont Salève is already in France. A cable car leads up to the 1,100-metre-high summit. After a five-minute ride you can enjoy a beautiful view of Lake Geneva, Switzerland and as far as Mont Blanc. You will certainly not be bored on the summit, as there is a wide range of activities on offer: hiking, mountain biking, climbing and paragliding are some of the options waiting for you on a beautiful summer's day.
Location: Etrembières (France)
More information
By boat to one of the most beautiful villages in France

From Geneva, you can explore one of the most beautiful villages in France comfortably by boat. Yvoire is located on the peninsula Presqu'île du Léman, which rises into Lake Geneva northeast of Geneva - on the French side. The medieval village is one of the most beautiful of its kind in France. In addition to a church from the 11th century and numerous historical buildings, Yvoire is worth visiting the Jardin des Cinq Sens, a magnificent botanical garden.
Place: Geneva
More information
© Genève Tourisme / www.geneve.com
© Genève Tourisme / www.geneve.com
Walk through the Parc des Bastions

In the heart of Geneva, below the old town and not far from the lake shore, the Parc des Bastions offers shade and relaxation, especially in summer. The park includes a tree-lined promenade and numerous monuments such as the world-famous Reformation Wall, the Palais Eynard and the old university building. Construction of the 65,000 square metre park began as early as the 18th century.
Location: Geneva
More information
Geneva region in winter
© MEG / Joël Fuchs
Museum of Ethnography Geneva

The museum, which is over 100 years old, houses one of the largest folklore collections in Switzerland: 80,000 exhibits and a further 300,000 documents can be viewed in the new building constructed two years ago. Among other things, the permanent exhibition "Archive of human differences" is highly recommended. There you can learn how the various cultures have developed with and from each other throughout history.
Location: Geneva
More information
Geneva's broken chair

Next to the headquarters of the United Nations, on the Place des Nations, stands a very special and unique monument: a 12-metre high wooden chair, one of the four legs of which has broken off. The chair is meant to commemorate the victims of landmines. The monument was erected in 1997 by the artist Daniel Berset. Right next to the broken chair you can visit the Palace des Nations, an impressive monumental building from the early 20th century, which today houses the headquarters of the United Nations. Guided tours of the palace are offered.
Location: Geneva
More information
© Genève Tourisme / www.geneve.com
© Genève Tourisme / www.geneve.com
Russian Orthodox Church of Geneva

A few meters southeast of Geneva's old town is a magnificent Russian Orthodox church. The sacred building is one of the few of its kind in Switzerland. The so-called Kreuzerhöhungskathedrale was built between 1863 and 1866.
Place: Geneva
More information
Places in the Geneva region
© Ville de Carouge / David Wagnières
Carouge GE

The town of Carouge, more or less intertwined with Geneva, looks back on a long tradition. The fact that it was once part of the Kingdom of Savoy can still be seen today in the town of Carouge with its 23,000 inhabitants: Its southern charm also stems from the fact that it was once designed by architects from Italy. From the city centre of geneva, you can easily reach Carouge. Stroll through the cosy alleys and visit the Eglise Sainte-Croix and the Place de l'Octroi.
Meyrin

Meyrin is a city of 25'000 inhabitants and is located just outside the city limits of Geneva. Meyrin is connected to the Geneva tram system. On the outskirts of Meyrin and right on the French border is CERN (European Organization for Nuclear Research), where interesting guided tours are offered to visitors.
© Laurent Barlier
© Chancy
Chancy

Chancy is a village at the farthest tip of the canton of Geneva and therefore also the westernmost village in Switzerland. The 1,700-people village is virtually surrounded by France.
What our members say
Discover new places far away from mass tourism
"Since I own a HotelCard, we go on excursions much more often again and treat ourselves to the small luxury of an overnight stay in a hotel. Switzerland has so many exciting corners and with HotelCard, we are always discovering new destinations far away from mass tourism."

Sandra & Giuseppe
member since 2020
A great thing for hotels
"As a hotelier, I appreciate the model. Unlike other booking portals, HotelCard does not take commission on bookings. HotelCard members are welcome guests at our hotel and are a real asset, especially in the low season"

Very good newsletter - always eagerly awaited!
"HotelCard does a great job in communicating the great hotel offers. I always eagerly await the newsletter and read it with great pleasure. In these pandemic times, discovering all that Switzerland has to offer has become a real passion for me. I really appreciate the inspiration for special hotels and unique destinations from HotelCard."
Eric Haldimann
member since 2020
Win-win situation for all involved
"I would like to thank the whole HotelCard team for their great commitment. In the meantime, our children no longer live at home and we use the HotelCard offer very often for short holidays. A great thing and I think it really is a win-win situation for everyone. Thank you very much and have fun and success searching and finding nice partner hotels. See you in the next inspiring newsletter."
Siegmund Ksiazek-Stadtbäumer
member since 2011
Already saved over 2,000 CHF - it couldn't be better.
"We have been very satisfied with HotelCard for more than 3 years. We have been able to save over 2,000 CHF so far - it couldn't be better. We are really fans and have often recommended HotelCard to others."
Ruedi Kündig
member since 2017
Share your best HotelCard moments with us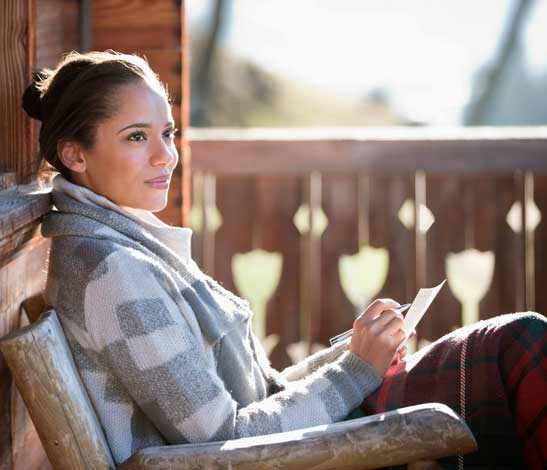 Share your experiences with our HotelCard community so that other members can benefit from your travel stories and experiences with HotelCard. Simply tag your posts on Instagram with hashtags #myhotelcard. We look forward to your contributions!